OUR PHYSICIANS
---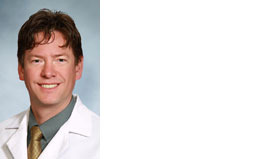 Jason D. Archibald, M.D.
---
graduated from Brigham Young Univeristy with a degree in English. Afterward, he received his medial degree from Duke Univeristy. He completed his orthopaedic residency at Johns Hopkins Hospital and a sports medicine fellowship at the University of Wisconsin. During his training he worked with the Baltimore Orioles, the Johns Hopkins University lacrosse team as well as many division I teams at the University of Wisconsin. His clinical interests include sports medicine and cartilage restoration. He performs arthroscopy of the shoulder, knee and hip as well as knee and hip replacements. Outside the hospital, he enjoys rock climbing and mountain biking. He is fluent in French and currently resides in Charlestown, Massachusetts.
Andrew W. Ayers, M.D.
---
specializes in the treatment of sports-related shoulder, elbow, knee and ankle injuries with a secondary interest in the treatment of traumatic injuries and fractures. He is a graduate of Colby College where he captained the football and lacrosse teams. After graduating from Colby, he taught biology and Latin and coached football, basketball and lacrosse at the Delbarton School in Morristown, NJ. He spent summers working as an instructor at a mountaineering school in Chamonix, France. Dr. Ayers then went on to earn a master's degree in physiology from Georgetown University, where he also worked as a graduate assistant coach for the lacrosse team. He remained at Georgetown to obtain his M.D. and completed his orthopedic surgery residency training at Georgetown University Hospital. He rounded out his training with a fellowship in sports medicine at the Hughston Clinic in Columbus, GA where he was team physician for local high schools, colleges and professional sports teams. He and his wife Kate and their four children live in Hamilton where he enjoys the outdoors and coaches youth hockey and lacrosse.
Papaiah Gopal, MD
---
is a physiatrist who specializes in physical medicine and rehabilitation. He has a widespread knowledge base with prior experience in general and neurosurgery, cardiology and electrodiagostic testing. Dr. Gopal attended Mysore Medical College in India with a specialization in general surgery. He was a member of the house staff in neurosurgery at both Long Island College Hospital in Brooklyn, NY and at North Shore University Hospital in Manhasset, NY. He then acquired further training in physical medicine and rehabilitation from New York Medical College. Dr. Gopal is a skilled diagnostician and is an important resource for patients requiring rehabilitation for a host of conditions and injuries.
Douglas O. Halsted, M.D.
---
Dr. Halsted (www.bostonhandsurgery.com) has more than thirty years experience in surgery of the Hand. Board certified in orthopaedic surgery with Subspecialty Certification in Surgery of the Hand (formerly CAQ Hand), Dr. Halsted is additionally fellowship trained in trauma surgery.
A graduate of Dartmouth College, Mayo Clinic, Maine Medical Center, and the Harvard Orthopaedic Program, Dr. Halsted completed fellowship training at the Kleinert Hand Institute in Kentucky and an AO International trauma surgery fellowship in Switzerland and Germany.
Dr. Halsted's particular interests include minimally invasive and endoscopic hand surgery. He is also interested in and proficient at ultrasound evaluation of upper extremity problems.




William J. Murzic, M.D.
---
grew up on Cape Cod. He attended Columbia College where he received a bachelor's degree in economics. He earned his medical degree at Tufts University School of Medicine before completing his internship and residency at Duke University Medical Center. Dr. Murzic completed a one year fellowship in adult reconstructive surgery at Sutter General Hospital in Sacramento, California, and specializes in total joint replacement. He is board-certified in orthopedic surgery and devotes the majority of his practice to hip and knee arthroplasty. Dr. Murzic has a wide range of research experience and has published several peer reviewed articles. He remains active in the clinical investigation of joint replacement surgery, and has made several national presentations. Dr. Murzic performs a high volume of joint replacement surgeries yearly, including complex revision procedures. He is Chief of Orthopedics at North Shore Medical Center, and on the active medical staff at Beverly Hospital. He and his wife Courteney live in South Hamilton.
Todd O'Brien, M.D.
---
grew up in Andover, Masachusetts and attended The Governor's Academy in Byfield. Dr. O'Brien earned his undergraduate degree in economics from the University of Rochester. After completing post-baccalaureate pre-medical training program at Tufts University, he began his medical training at the University of Massachusetts Medical School in Worcester. Following graduation as a member of the Medical School honor society, Alpha Omega Alpha Honors, he returned to Rochester and completed a five year orthopedic surgery residency program. After completing his residency, he was chosen to be a fellow in the Intercontinental Shoulder and Elbow Fellowship, a combined reconstructive fellowship of Massachusetts General Hospital and the Balgrist Klinik in Zurich, Switzerland. Dr. O'Brien devotes the majority of his practice to reconstructive shoulder surgery including total shoulder replacement, reverse total shoulder replacement, and arthroscopic rotator cuff repair. Dr. O'Brien performs a high volume of joint replacement surgeries yearly, including complex revision procedures. He is member of the active staff at North Shore Medical Center, and Beverly Hospital.
Jonathan R. "Jay" Perryman, M.D.
---
specializes in the latest in management of complex sports problems, including arthroscopic management of difficult arthroscopic knee and shoulder surgery issues. Prior to joining New England Orthopedic Specialists, he was a team physician for the New York Jets, New York Rangers and Hofstra University athletic teams. As a fellow in sports medicine at the Lenox Hill Hospital in New York City, Jay participated in the care of career professional athletes on a daily basis and participated in training in arthroscopic and open treatment of sports-related injuries. After earning a bachelor's degree in biology from Dartmouth College, he received his M.D. from Georgetown University Medical School and was a resident in Orthopedic Surgery at Duke University. He was also a research assistant for the Department of Orthopedics at the Hospital for Special Surgery in New York City. He is a member of the active staff at North Shore Medical Center, and Beverly Hospital.